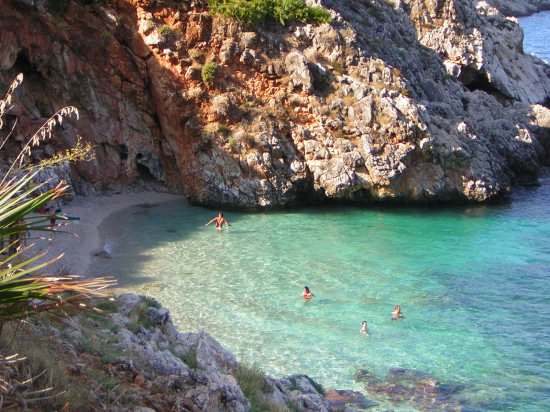 ---

Dal piccolo borgo di Scopello, che si sviluppa attorno alla corte di un baglio (agglomerato quadrangolare cinto da mura, contenente una sorgente d'acqua e una vasca-abbeveratoio al centro del feudo, dove si svolgevano i lavori di masseria agricolo-pastorali) è possibile iniziare un percorso variegato, dalla visita alla vecchia tonnara al giro per i numerosi produttori di ceramiche, oppure ancora partire alla volta della bellissima e incontaminata Riserva Naturale orientata dello Zingaro: piccoli sentieri strategicamente disegnati sui dirupi, arrivano fino al mare o si inerpicano sui monti, regalandoci uno degli scenari mediterranei più integri che siano rimasti.

Se si è fortunati, e se si rispetta il sacro silenzio che vi si respira, si possono ammirare falchi pellegrini, aquile del Bonelli, poiane, gheppi, nibbi reali, in un ambiente ricco di piante endemiche e rare che fanno della riserva una vera oasi di biodiversità, la cui regina assoluta è la palma nana, la giummara (simbolo della riserva), che nasce spontanea in ogni anfratto e dirupo del parco. La fatica della passeggiata è ampiamente ripagata da uno spettacolo naturale di assoluta bellezza, e da un bagno ristoratore nelle limpide e incontaminate spiagge dalla riserva.
Il nome "Scopello" appare per la prima volta in un diploma redatto in lingua greca nell'anno 1097, con il quale il Conte Ruggiero concedeva al Monastero di S. Maria di Boico, presso Vicari, terre, animali e servi nella stessa Boico, nonché a Ciminna, Scopello, Patterano e Garciniene. Nel diploma di concessione di Scopello al monastero di S.Maria di Boico si parla soltanto di una terra recante questo nome, che in precedenza era appartenuta a certo notaio Giovanni. Secondo l'Alessio il toponimo che compare nel diploma potrebbe interpretarsi o come adattamento del greco, "scoglio, secca, rupe" oppure come diminuitivo del prestito latino "scopulus" avente lo stesso significato.
La tradizione storica ha individuato nell'odierno sito di Scopello l'antico insediamento di "Cetaria", posto da Tolomeo tra Bati e Panormo, proprio in relazione al suo nome derivante dalla pesca del tonno che qui fu sempre praticata. Questa identificazione è stata avvalorata nel tempo da pochi ruderi emergenti e da materiale fittile erratico rinvenuto nei pressi della tonnara. Ma, sino al periodo normanno, le fonti documentarie purtroppo sono avare, e non si può quindi ragionevolmente ipotizzare una continuità di vita di questo insediamento.

---

The last time we were in Scopello, a feudal village near the coast between Castellamare del Golfo and San Vito Lo Capo (west of Palermo), the only foreign visitors we encountered were a few American girls in their early twenties. Heaven only knows how they found out about the place. But it's a very nice spot, near a public beach and a nature reserve. Two medieval watch towers guard the nearby coast. The focus of the tiny town is the piazza and baglio.
Fortunately, no large hotels or resorts have marred the landscape yet, though there are villas for rent in the area. You may have to search for lodging in San Vito Lo Capo. The Zingaro nature reserve, Erice and Segesta make pleasant excursions.
Who goes to Scopello? In June, July and August, there's no dearth of foreigner visitors. We recommend visiting from March through October, but any time is good. Book early for july and August. There are several agritourism estates (farmhouses) in the area that offer rustic accomodations. But even one day discovering Scopello is a day well spent.
Baglio? It's one of those Italian words nobody ever defines perfectly. Without wishing to digress from the discussion at hand, we'll say that the English word bailey (outer wall of a castle), from the Old French baile (palisaded enclosure), probably shares the Norman origin of the Italian term. Essentially, a baglio is a square, fortified courtyard with a strong gate and perhaps a low tower or two, surrounded by walls and low buildings. More than a fort but not quite a castle. The Sicilian baglio is a medieval Norman invention but few surviving bagli are actually medieval, despite a few would-be knights we saw trying (unsuccessfully, it seemed) to seduce American maidens at Scopello. Scopello's baglio is several centuries old and its courtyard houses restaurants and a café. A perfect retreat on a hot summer day. The baglio represents the hamlet's recent agricultural past, but the coastal towers are a reminder of the Saracen and Norman domination of Sicily.
For Visitors: San Vito holds a couscous festival the third week of September. Trapani has a summer music festival (the Luglio Musicale Trapanese) in July, and in spring an annual tuna festival based on the mattanza. Speaking of seafood, it is excellent in this part of Sicily. We suggest the tuna, a delicious experience nothing like the stuff you buy in cans at the supermarket; it's not even the same variety.