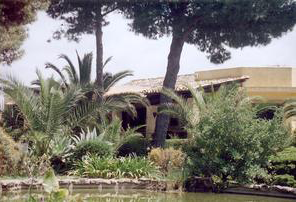 ---

Marsala è uno dei principali centri della Sicilia per il patrimonio storico, monumentale e paesaggistico: imperdibile il centro storico ricco di testimonianze di civiltà puniche, romane, arabe, normanne e spagnole. Come non visitare la splendida MOZIA, colonia fenicia immersa nella laguna dello Stagnone, patria dei surfisti, circondata dai mille colori delle saline al tramonto, con i fenicotteri rosa che volteggiano fra i mulini a vento...
Patria dell'omonimo vino D.O.C., ottenuto dopo anni di invecchiamento in fusti di rovere: non perdetevi le storiche cantine quali Florio, Donnafugata e Pellegrino.
Situata in posizione strategica al centro della provincia, vi offre la possibilità di visitare a corto raggio testimonianze storiche come SELINUNTE (40'), AGRIGENTO e la sua splendida Valle dei Templi (100'), MAZARA DEL VALLO (capitale italiana della pesca e il Satiro Danzante, 20'), SEGESTA (40'), la medievale ERICE (30'), l'indescrivibile mare di S.VITO LO CAPO (cous-cous fest a settembre, 40'), la Riserva Naturale del Parco dello Zingaro). Dal porto di Marsala inoltre in pochi minuti potrete raggiungere le isole EGADI, con FAVIGNANA, LEVANZO e la selvaggia MARETTIMO.
State ancora titubando?
---

Marsala is one of the main centers of Sicily for its historical, monumental and landscape heritage: an unmissable historical center rich in Punic, Roman, Arab, Norman and Spanish civilizations. How not to visit the splendid MOZIA, Phoenician colony immersed in the Stagnone lagoon, home of surfers, surrounded by the thousand colors of salt pans at sunset, with pink flamingos circling among windmills ...

Home of the homonymous wine D.O.C., obtained after years of aging in oak barrels: do not miss the historic cellars such as Florio, Donnafugata and Pellegrino.

Located in a strategic position in the center of the province, it offers you the chance to visit short-range historical sites such as SELINUNTE (40 '), AGRIGENTO and its splendid Valley of the Temples (100'), MAZARA DEL VALLO (the Italian fishing capital and the Satiro Danzante, 20 '), SEGESTA (40'), the medieval ERICE (30 '), the indescribable sea of ​​S.VITO LO CAPO (cous-cous fest in September, 40'), the Zingaro Nature Reserve ). From the port of Marsala, in a few minutes you can reach the EGADI islands, with FAVIGNANA, LEVANZO and the wild MARETTIMO.

Are you still hesitant?